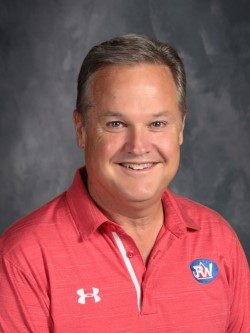 The MSD of Martinsville is pleased to announce Mr. Eric Bowlen has been selected as principal of Martinsville High School beginning immediately to prepare for the 2021-2022 academic year.
"I am truly humbled having started at Martinsville High School as a teacher and returning as principal," said Mr. Bowlen. "Martinsville High School has a long history of great principals including Henry Pearcy, Blake Ress, Don Alkire, Nick Sears and Misty Ndiritu. I am honored to step into this leadership role."
Principal Bowlen received his Bachelor of Science in Social Students from Indiana University and, in 2001, his Administrative License from Oakland City University.
In 1994, Mr. Bowlen began teaching US History, Government, and World Geography at Martinsville High School, then became assistant principal in 2001. An Artesian all the way, his distinguished career continued as principal of East Middle School (renamed Bell Intermediate Academy) in 2005 and then principal of John R. Wooden Middle School starting 2016.
"Mr. Bowlen is an experienced educator, enthusiastic Artesian and advocate for students," said Dr. Roberson, interim superintendent, MSD of Martinsville. "He will do a great job leading the high school and connecting with the community."