Summary Account for John Wooden Marker Dedication Ceremony at Gleen M. Curtis Memorial Gymnasium on January 19, 2023
Good morning and thank you for coming.
I'm Curtis Tomak, and we are here to pay tribute to Morgan County's John Wooden and to remember his life. John Wooden was a very able, accomplished, and caring individual who is known nationally and internationally for his outstanding achievements in basketball, the value he placed on education, and his approach to life. It is very fitting that he is honored with a marker at the Glenn Curtis Memorial Gymnasium which is on the campus of the John R. Wooden Middle School and which is where he played high school basketball.
Before telling you a little bit about John Wooden's life, particularly his Indiana years, I want to acknowledge and thank the people who were instrumental in this project. They are Don Lipps and other members of the Martinsville School Board; Eric Bowlen, Superintendent of Martinsville schools; Suzie Lipps, Assistant School Superintendent; Fred Kutruff, Principal of the John R. Wooden Middle School; and Jeff Main and Mike Spencer, both of Martinsville, who co-sponsored this project with me and my wife Norma.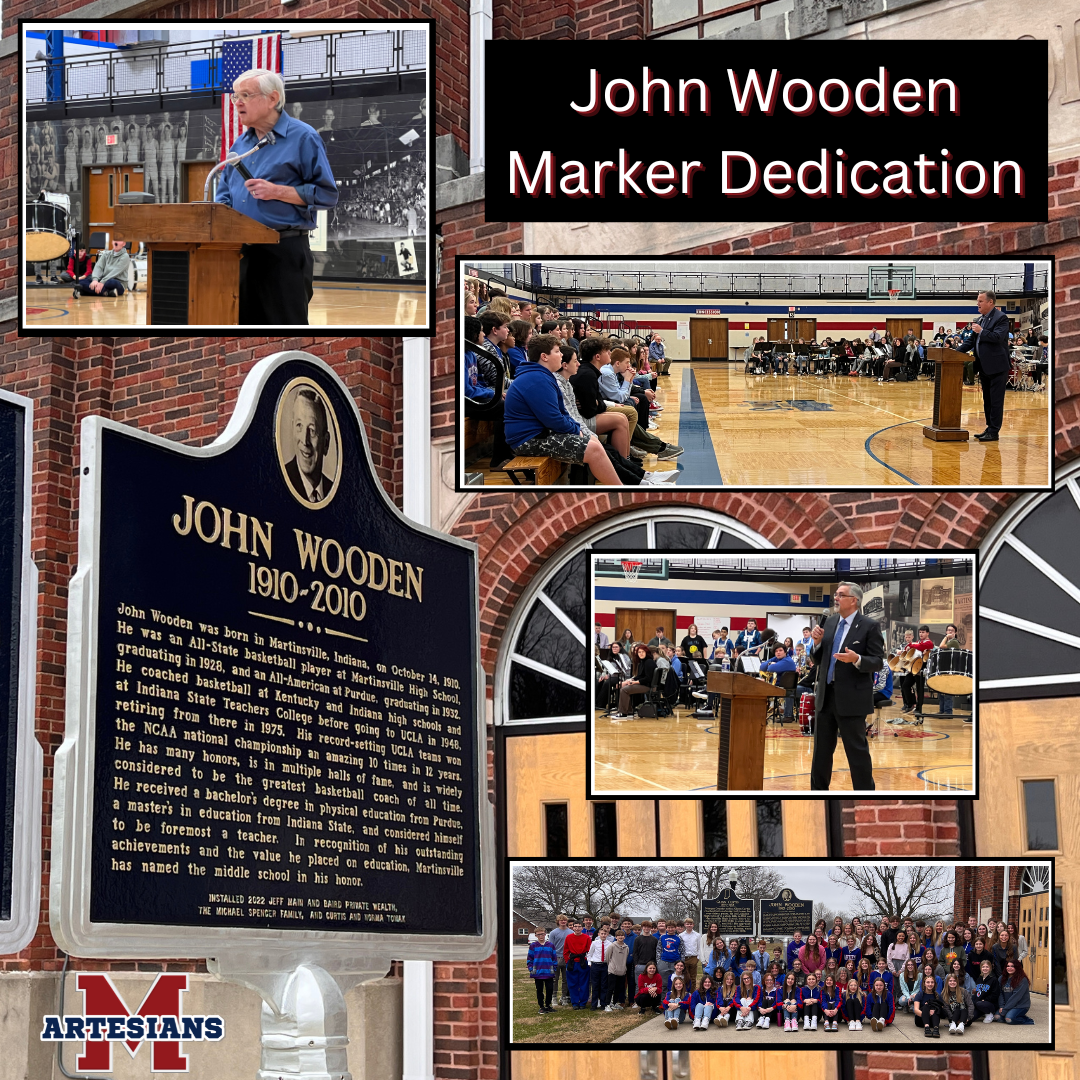 John Wooden's father was Hugh Wooden who was from Adams Township in northwest Morgan County. John's mother was Roxie Rothrock who was from Centerton in Morgan County. Hugh and Roxie were married in 1905 at her parent's home in Centerton. They moved to Martinsville in June 1907 before they had any children. By October 1907, they were living at 460 North Jefferson Street in Martinsville in a house owned by John Rothrock who was Roxie's father. John Wooden was born at 460 North Jefferson Street in Martinsville on October 14, 1910, as evidenced by a variety of records, including his birth certificate. When John was born, his father was working as a clerk at the Hill-Sadler grocery store on the north side of the square in Martinsville. Earlier that year he had worked at a creamery.
The Woodens lived at 460 North Jefferson Street for seven years and then in September 1914 they moved to Hall in Morgan County when John was almost four years old. They lived at Hall for a year and then moved a few miles away to Monrovia in 1915. John's grandfather Rothrock passed away in 1917, and John's mother inherited a farm at Centerton from him. In 1917, the Woodens moved to that farm and John's dad farmed. The Woodens left the farm and moved back to Martinsville in September 1925 when John was a sophomore in high school.
After moving back to Martinsville in 1925, John's father worked mainly at a mineral water sanitarium, and John's mother also worked at times. In addition, John's parents still had their farm which they rented out to various people. They kept their farm for five years after moving back to Martinsville, and then in 1930 sold their farm to a nephew Roy Rothrock for $7500, as recorded on the deed to the farm. When the Woodens moved back to Martinsville in 1925, the first house they lived in is the large brick house that is on the northeast corner of the intersection of Pike and Ohio streets. In 1927 they moved to 165 West Washington Street and continued to live there well after John had graduated from high school in 1928.
Those are the two Martinsville houses that John Wooden lived in while he was in high school. John Wooden had an outstanding high school basketball career, but he didn't become a star player right away. When he was a freshman, he was on the reserve team. As a sophomore, he was a substitute on the varsity team. When he was a junior, he became a starter and was a member of Martinsville's state championship team and an All-State player that year. Then, as a senior in high school, due to his hard work and ability, he became captain of the team and was an All-State player that year.
John graduated from Martinsville High School in 1928 and went to Purdue University. He had a tremendous basketball career at Purdue, being a three-time All-American and selected as college player-of-the-year for 1932. According to Purdue records, he graduated with a bachelor's degree in physical education in 1932. In August 1932, he married his high school sweetheart, Nellie Riley, and they moved to Dayton, Kentucky, whose high school is where John began his coaching and teaching career. He was at Dayton for two years, and then in 1934 he went to South Bend Central High School in Indiana to coach and teach. While there, he served in the Navy from 1943 to 1945 during WW II and then returned to South Bend.
After a fine high school coaching career, he left South Bend in 1946 to become the basketball coach at Indiana State Teachers College at Terre Haute. While there he obtained a master's degree in education. He did well at Indiana State but left in 1948 to become the basketball coach at the University of California at Los Angeles, also known as UCLA. John had an unbelievable career at UCLA that included unmatched accomplishments at the highest level of men's college basketball. For example, his record-setting UCLA teams won an amazing 10 NCAA national championships in a 12-year period, had an 88-game winning streak, and had four undefeated seasons. Coach Wooden retired in 1975 and passed away in 2010. John Wooden is in numerous halls of fame as a player and coach and is widely considered to be the greatest basketball coach of all time.
It's quite fitting that John Wooden's marker is placed next to the marker for his high school coach, Glenn Curtis, and it's very appropriate to close by saying a few things about Curtis after whom this gymnasium is named and about his relationship with Wooden. Glenn Curtis was born in Morgan County in 1894, graduated from Eminence High School in Morgan County in 1911, and had three college degrees from Indiana State at Terre Haute. Curtis is a hall-of-fame coach and one of Indiana's all-time great basketball coaches, having won four Indiana high school state basketball championships, one of them at Lebanon and three at Martinsville. He was a fine man, Principal of Martinsville High School, and Superintendent of Schools at Martinsville.
He also coached basketball at Indiana State for eight seasons and had a very fine record there. John Wooden has stated many times how important Glenn Curtis was to him as a mentor in basketball and in other aspects of life. For example, in 1952 John Wooden wrote a very complimentary letter to Glenn Curtis regarding Curtis's influence on him, and asking Curtis for help. John had a problem with the way his UCLA teams had been playing and he had not been able to find a solution.
John writes that he wishes it were possible for Curtis to be able to see his team play so that Curtis could solve the problem, and John goes on to ask Curtis to send him suggestions. Another example of Glenn Curtis's influence as a mentor to Wooden is Wooden's famous "Pyramid of Success." John Wooden put a great amount of work and thought into the development of the "Pyramid of Success," and Glenn Curtis was influential in its creation. John Wooden and Glenn Curtis, two great Morgan County men memorialized side-by-side by markers at this great gymnasium which is on the National Register of Historic Places.
Thank you.